It's high time for us to get into more right relationship with ourselves, each other, and the rest of the natural world.
If you have come here to help me then you are wasting your time, but if you have come because your liberation is bound up with mine then let us work together.
--Lila Watson (aboriginal Australian activist)
OurPla.net
I'm on Facebook and Twitter.
I was with the Great March for Climate Action
for the eight months it took us to get from LA
to DC. More recently I started /r/NoDAPL on Reddit.
November 14-17, 2016
Fundraiser update - in three days so far since putting this fundraiser out there, I have received gifts totaling a few hundred dollars, and a good friend has offered to pay for a solid pair of winter boots! I feel confident enough about gear and initial gas money that I'm arranging a ride, probably have one for next Tuesday. More funds would enable me to (for example) get cellular service for my iPad to organize & post things live or live-ish, and help out with gas money for rides around the area or to/from Iowa.
November 13, 2016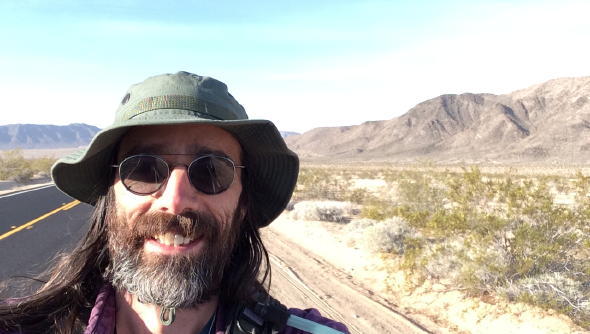 Right now I'm helping organize a local November 15 solidarity march & rally (there's probably one near you), and getting ready to go myself to Standing Rock. My intent is to go "for the duration," meaning as long as it seems I am wanted there and I feel okay there, I will stay. I'm communicating with friends on the ground about what's most important to bring. My first priority will be following indigenous leadership and doing whatever serves the pipeline resistance. I will do my best to also share news & my experience online and via KEPW, the community radio station I've been helping with here in Eugene, Oregon.

To make this work I need funds for travel, winter gear, a cell connection for my iPad, and such. You can make a gift toward my expenses with a credit/debit card or via PayPal at http://paypal.me/johnabbe. Please note that Paypal does not give me any way to know who gives other than the name on their PayPal account. You can contact me to let me know who you are, or to arrange other means of gifting at johnca@ourpla.net or 617-678-3155.

(I considered GoFundMe but they take 10% of your donations. PayPal's FAQ says: "It's free to send money to friends and family in the US when you use your PayPal balance or bank account. If you use your credit or debit card, the fee is 2.9% + $0.30.")

Here are a couple of statements from people supporting my going:
I've known John for many years now, and have come to trust his sharp mind and integral analysis of what is going on, and what the world needs. His view spans from the deeply personal, through dialogue and interactivity, to action on the ground. This is the third major effort of his, for peaceful transformation, that Iím actively supporting. I trust that his experience with, and wide knowledge of, nonviolence will be a great contribution to the environmental aspect of the struggle at Standing Rock. --Maja Bengston
John Abbe is an extremely intelligent, competent, and dedicated activist who thrives in and contributes well to mission-driven communities. He is grounded in spiritual understandings (including indigenous spirituality and Eastern sensibilities and practices), empathy for all (especially marginalized people and peoples), and sophisticated systems perspectives (which he brings to his work on issues that are symptoms of larger systemic problems). His extensive experience in intentional communities, mobile activism (like the cross-country march for climate action), and street living (including during Occupy Eugene and afterwards) make him able to participate extensively in communal encampments with little sense of alienation or deprivation. Of special note are his technical, mediation, facilitation, and networking skills - all potent gifts to any group he chooses to support. He is remarkably capable of reframing his justifiable outrage into compassion for all in service to Life and thus generates a spirit of intense opposition to harmful institutions and actions while maintaining a heart connection to the individuals involved. I've known John for more than 20 years and I think he would be a blessing to the Standing Rock community and it would be a blessing for him, as both are already a blessing for the world. --Tom Atlee
Frequently Asked Questions
Q: What if you raise more money than you need?
A: First priority is travel expenses, and gear and clothes (especially for the cold weather!). Guesstimating about $1000 for that. After that, I could pitch in toward a teepee that friends from the 2014 climate march are talking about buying so that we have a solid structure for winter to live in together. I'd also like to fix a loaned laptop and replace its battery, which would be helpful both for what I'm doing at Standing Rock, and in general. Beyond that I would probably pull the fundraiser down, but any extra money (and any heavy-winter gear) left when I depart Standing Rock I will pass on to support native-led work.
Earlier
I miss the web. The original, with text and links pages, and in later years, images too! The one where tons of people were getting into editing their own HTML, and when people first experienced easy publishing/blogging software it was a wonder to all.

I had a bunch of old-style HTML pages at this domain, recently found an archive and will put some back, but it's also a chance to start fresh with hand-crafted HTML and CSS, for now just this front page and my links page.

==

My Wagn

The old OurPla.net is archived here (and the most active part, my wiki-weblog here). (Thank you, archive.org.)